RCMI General Information
Goals & Objectives
The proposed research plan was developed to provide the Universidad Central del Caribe (UCC) with the necessary human and physical resources to do competitive and productive research. This plan addresses research infrastructure issues that, after long debates and judicious considerations, have been identified as vital to foster the current research agenda of UCC, and enhance the University's capacity to join the rest of the nation's efforts in the transition of basic biomedical findings into clinical applications. It also benefited from the thoughtful advice of our RCMI Internal and External Advisory Committee Members, and external consultants, and considered the outcome of the mid-course evaluation, as well as the UCC Strategic Research Plan, past research experiences, present needs and future goals.
The overall goal of the Renewal Application encompassing years 2009-14 is to foster further development of existing facilities and creation of new centers, and projects. This is aimed to strengthen our capacity to attain a balanced and effective transition from basic to clinical research and consolidate the research endeavors at the Universidad Central del Caribe.
Specific Aim 1. To continue developing an Administrative Component consisting of a Leadership Core, a mentoring program, a Scientific Research Development Unit, and a Data Management and Statistical Research Support Unit.
Specific Aim 2. Strengthen the existing research centers (Retrovirus and Neuroscience) and create the Cancer Research Center.
Specific Aim 3. Provide support and leadership to existing and new Research Resources areas and core facilities that have proven to be indispensable for basic and clinical research enterprise.
Specific Aim 4. Provide support to five research pilot projects in the area of Retrovirology, Neuroscience, and Cancer as an effective way to expand the scope of research.
Specific Aim 5. Establish an RCMI evaluation plan to monitor the progress and verify research productivity.
Organizational Structure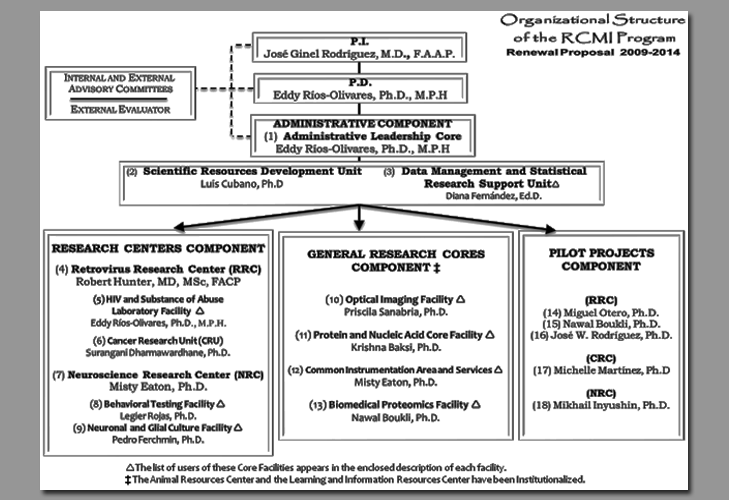 Administrative Staff
Eddy Ríos-Olivares, Ph.D., M.P.H.
Program Director
Ivonne Amill
Assistant Director
Irves Rivera
Coordinator
Liliana Ilarraza
Administrative Assistant
EAC Committee
Dr. Karam F.A. Soliman
Distinguished Professor
Assistant Dean for Research
College of Pharmacy and Pharmaceutical Sciences
Florida A & M University
Dr. Bharat B. Aggarwal
Ransom Horne Professor Cancer Research
Professor of Cancer Medicine (Biochemistry)
Dept. of Experimental Therapeutics
The University of Texas
MD Anderson Cancer Center
Dr. Philip C. Andrews
Professor, Biological Chemistry
University of Michigan School of Medicine
Department of Biological Chemistry
Dr. Bala Chandran
Professor and Chair, Director H.M. Bligh Cancer Research Laboratories
Dept. of Microbiology and Immunology
Chicago Medical School
Rosalind Franklin Univ. of Medicine and Science
Mrs. Sandra Miranda
Vigilancia SIDA
Centro Comercial 65th Infantería #49
Suite 32 Río Piedras, PR 00923
Dr. Robert Hendrickson
13220 Houston Hendrickson #80
Hudson, FL 34667
Dr. Robert E. Oswald
C3-167 Veterinary Medical Center
Dept. of Molecular Medicine
Cornell University
Dr. A.L. Padjen
Department of Pharmacology
& Therapeutics, McGill University
3655 Sir William Osler Promenade
Montreal, Québec, H3G 1Y6, Canada
Prof. Sandra I. Santos
University of Puerto Rico
Medical Sciences Campus
Dr. Karam F.A. Soliman
Distinguished Professor
Assistant Dean for Research
College of Pharmacy and Pharmaceutical Sciences
Florida A & M University
Dr. Andrés Villaveces
Research Assistant Professor
Epidemiology
University of North Carolina
School of Public Health
Dr. Lynn Wecker
Distinguished Research Professor
Departments of Psychiatry & Behavioral
Medicine & Molecular Pharmacology & Physiology
USF College of Medicine
Dr. Charles Wood
Director, Nebraska Center for Virology
Lewis Lehr/3M University Professor
School of Biological Sciences
University of Nebraska